Tech Leaders
Inside Ocado:
The Automated Warehouses Powering Technology's Dark Horse
You may think of Ocado as just another online supermarket, but in reality the company is technology's dark horse. Lucy Ingham spoke to Paul Clarke, CTO of Ocado, to find out how the company's automated warehouse-based smart platform is taking it to the upper echelons of the world of tech
Ocado is undoubtedly one of the internet's success stories. Launched 18 years ago, it has grown to become the world's biggest online-only supermarket, catering to over 580,000 customers each day. And central to this has been its use of technology.
"Right from day one our vision was to use technology and automation in order to do online grocery scalably, profitably, sustainably and really unlike anybody else had done successfully. And that's exactly what we've done," says Paul Clarke, CTO of Ocado.
However, while Ocado has had considerable success in developing its own grocery business, arguably its biggest potential for future growth lies in the Ocado Smart Platform – a solution that is helping to take the company from grocery giant to serious technology heavyweight.
The Ocado Smart Platform
The Ocado Smart Platform is a scalable solution for retailers. Covering everything from automated warehouse facilities to ordering and delivery solutions, it is designed to provide an advanced but affordable fulfilment solution.
It builds on the design of Ocado's own warehouses, from the first-generation automated warehouses that Clarke describes as "state-of-the-art for anybody who isn't Ocado" to its highly advanced second-generation locations in Andover and Erith. And the latter have been particularly key to the offering, as they have a modular design that allows them to be easily scaled as needed.
"In new markets where we might be building warehouses for Ocado Smart Platform customers, we needed something more modular because it may take a while for online groceries to take off or that customer wants to grow into that solution more gradually," says Clarke.
"Therefore we needed something more sustainable, and that's one of the key attributes that the new technology provides."
"We are literally talking to people around the world."
When it comes to customers, Ocado's ambition isn't exactly small. According to Clarke, the company is targeting "every single continent apart from Antarctica and a couple of war zones".
"We are literally talking to people around the world. And if you look at the deals we've signed: we've signed Casino Groupe in France, we've signed Sobeys in Canada, we've signed ICA in Sweden, we've signed Kroger in the US," he adds.
"Those are some big territories, and of course we've also signed a second deal with Morrisons here in the UK."
Unsentimental about innovation
Ocado's evolution has been rapid, but it has always been characterised by a willingness to abandon the established in favour of newer, more sophisticated solutions.
"Some of what we have built, particularly recently, wouldn't have been possible 18 years ago," says Clarke.
"In our first-generation warehouses we started with what hardware we could buy off the shelf, but we always wrote the software ourselves, and there wasn't a template for doing what we were trying to do.
"We had to evolve that ourselves, and we used to buy in the hardware: conveyers, cranes, shuttles and other machines and then we would write the software to put it all together. And that hardware evolved over time.
"We're quite unsentimental about innovation. I think of times in the past where we had barely put something live and we were already planning its demise, so to speak, in terms of whatever would replace it."
"We're constantly looking for ways to disrupt ourselves. We're never happy with what we've produced."
This is something that Clarke cites as key to Ocado's success, ensuring that the company is always setting the bar for what's possible rather than allowing itself to be outpaced by newer companies.
"The rate at which we've come up with new ideas has been very fast. That's our pattern: we're always thinking of new ways to skin the online grocery cat," he says.
"We're constantly looking for ways to disrupt ourselves. We're never happy with what we've produced; we obsess about holes in the Swiss cheese, if you like, and we're not going to stop doing that. That's what made us best in the world at what we do, along with being this unusual combination of being a retailer and a technology company.
"And by being both halves, we can drive the requirements from our own customers, build the technology and then test it out back in our retail businesses. And that's a very powerful combination and that's what got us to where we are and we're going to keep doing that."
Ocado the robotics company
If you were to enter Ocado's latest warehouses, which use the same technology offered in its Smart Platform, you would likely be awed by the sight in front of you.
Instead of the teetering shelves found in the warehouses of companies such as Amazon, Ocado's warehouses consist of a vast three-dimensional grid made up of bins carrying each product in its range. Flurries of robots move across the grid's surface, pausing to collect products as required as they assemble each order.
"The robots collaborate in swarm-like behaviors, which allows us to pick up a 50-item grocery order in a matter of minutes," says Clarke, adding that this speed is vital to "the overall end-to-end lifecycle of an order".
For the company's Smart Platform customers, this is central to the ability to scale.
"You can populate the grid with as many robots and bins as you need to get going and then as your storage and sales requirements go up, we just add more robots and bins so you can scale out the capacity," he explains.
" The robots collaborate in swarm-like behaviors, which allows us to pick up a 50-item grocery order in a matter of minutes."
Furthermore, this approach also allows Ocado to offer a far larger range of products than its competitors.
"We can accommodate a very large range of different products: the Ocado range is 50,000-plus different products, and that's important because it lets us not only offer a massive differentiating range, but it also allows us to work with small speciality suppliers who would struggle to get onto the supermarket shelves," he says.
There is another benefit, too. The vast grid approach enables the company to operate with centralised fulfilment, which in turn helps to dramatically reduce wastage.
"Even though we purge items that pass half their life, we still operate at a level of wastage that's a fraction of a conventional supermarket. I mean last year was about 0.76% and that's economic wastage. The actual food wastage is one and a half orders of magnitude better than that," he explains.
"And we'll only sell you what either we have in stock or what we know we will have in stock by the time the order gets picked, because we use real-time availability to promise and stock control and just-in-time ordering. What that means is we can give customers what they order almost every time with very, very low levels of substitutions."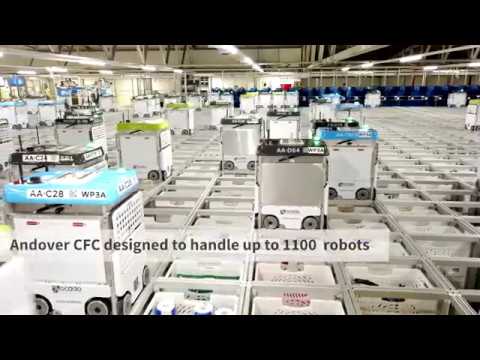 Autonomous warehouse management
While its robotics are undoubtedly central to Ocado's edge, its use of artificial intelligence (AI) and machine learning (ML) is also a vital part of the company's ability to innovate. And this is key to the company's management of its swarms of robots.
"On those hives, as we call them, we have three different levels of machine learning in play," says Clarke.
The first of these is "a bit like an air traffic control system", developing the most efficient route for each individual robot so that it can collect its assigned goods in the most effective manner without risk of collision.
Meanwhile, the same system is also continuously calculating and optimising the placement of each individual bin, to ensure that the goods inside are in the most efficient location within the wider grid.
"We're looking to add more machine learning embedded into the robots themselves to make them smarter for things like diagnostics, self-tests and troubleshooting."
Then there is the ongoing management of the robot's health, which is achieved in a manner that is "a bit like remote medicine might work for human beings who are wearing wearables". This system monitors a continuous stream of data to look for robots that need servicing or repairing, which are taken out of the swarm to be fixed, while an identical system takes their place.
"All of the robots are identical, so taking a few of them into the pit, so to speak, for some servicing doesn't affect the swarm because any of the other swarm members can take over," he says.
There are also plans to advance these capabilities further.
"We're looking to add more machine learning embedded into the robots themselves to make them smarter for things like diagnostics, self-tests and troubleshooting," explains Clarke. "And that will help our engineers find problems faster."
Driving the customer experience
While AI and ML have been key to the company's warehouse management, they are also vital to other aspects of fulfilment, including driver fleet management and the overall customer experience. And it is the latter where Clarke sees particular potential going forwards.
"We can see lots more applications of artificial intelligence and machine learning. We have a lot already but we can see lots, lots more," he says.
"Areas like voice are clearly going to be big, and we've already done some exciting things there in terms of all the first transactional skills for Amazon Alexa, for online grocery, apart from Amazon themselves.
"But that's part of a much bigger journey to do with connected cars and chatbots and voice-enabled mobile apps and smart appliances that have got those kind of voices built in. Once you've built that capability in a voice hub on your kitchen table it's relatively straightforward now to deploy it to any of those other endpoints."
"We can see lots more applications of artificial intelligence and machine learning. We have a lot already but we can see lots, lots more."
He also sees significant potential in the use of predictive analytics to ease the customer journey while providing the opportunity for more impulsive purchases.
"You want to reduce friction and let people get that order done as quickly as possible in a matter of minutes, but on the other hand we sell these 50,000 items and you want to encourage people to try new things," he says.
"Therefore you're trying to create the equivalent digitally of the products that are in your peripheral vision as you rush down the aisles of a conventional supermarket trying to get out of there as quickly as possible. The exciting thing is there are lots of ways to do that digitally."
This varies significantly based on the behavior of the customer, but Clarke sees significant development in this area in the future.
"We want to get to the point where the right groceries turn up at the right time, as if by magic, without you even having to order them in the first place," he explains.
"And that's where using AI and machine learning we'll be making steps towards that, and the more information we have on what our customers like and what they buy when, etc, the better we can get at predicting what they might want in their basket right now."
Onwards and upwards
In its drive to innovate Ocado not only has not only introduced impressive in-house technology capabilities, but has also built up its technology skillset through the acquisition of a host of companies, most recently nabbing a minority stake in robotics startup Karakuri.
"Along that journey really what we've been acquiring is competencies," says Clarke.
In the UK, the company is also set for major changes as its long-running deal with Waitrose is set to be replaced by a similar supply agreement with Marks and Spencer.
But looking internationally, its goals are clearly more technological than grocery based, with the company having achieved a level of sophistication that cannot be disrupted by "a couple of men or women in their bedroom armed with a credit card and a cloud account".
Instead, he says that "you need to be a company that's got that kind of technological clout" to compete with Ocado now and in the future.
"I suppose there are a handful of retailers around the world who have that technological clout, but not many. I'm going to not list them, but you can work them out who they are."
Images courtesy of Ocado Technologies