Bringing AI to Machine Vision
Pleora's eBUS SDK is the leading choice for image capture, display, and transmission in thousands of mission-critical automation, security & defense, and medical applications. The comprehensive solution provides developers with a feature-rich platform to simplify application design, with transmit and receive capabilities to streamline end-to-end data delivery between sensors and host devices.
Make any Sensor AI Ready
eBUS Tx is a software approach for faster design or retrofit upgrade of smart embedded imaging and sensing devices. Simply adding eBUS Tx to a sensor's software stack turns it into a fully compliant GigE Vision device – enabling seamless real-time transmission of images and data between devices, across networks, and to local or cloud processing.
eBUS Rx for host applications manages high-speed reception of images or data. Novel techniques reduce CPU usage and reserve more processing power for analysis and inspection while meeting latency and throughput requirements for real-time applications.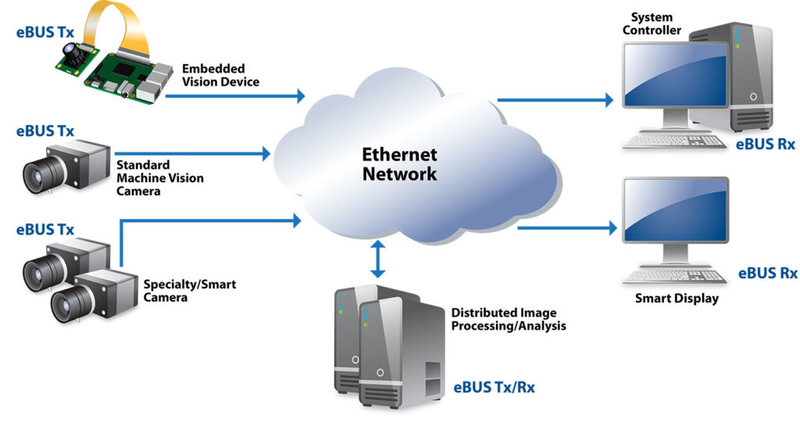 Download eBUS Player Toolkit
The eBUS Player Toolkit can be freely downloaded as a standalone application and includes useful tools to assist with setup, configuration, and troubleshooting.
Edge Processing and Smart Devices for Industry 4.0
AI and machine learning promise to bring new cost and process benefits into inspection systems. Our latest whitepaper explores how smart sensor and imaging devices help overcome bandwidth and networking challenges while providing a first step towards integrating AI in automation systems.