Engineer.ai provides a platform solution to building, upgrading and hosting custom software. Its latest offering, Builder, is designed to make software development more accessible, faster, and less expensive to create digital products. The first human-assisted AI of its kind for building custom digital products, Builder works similar to an assembly line to combine artificial intelligence with a globally crowdsourced team of designers and developers.
"Builder redesigns how software is created, enabling everyone with an idea in their head to get an app in their hand. We empower people to build their dreams without actually knowing how to code," said Engineer.ai co-founder Sachin Dev Duggal. "We're disrupting traditional software development by removing the shroud of mystery around code design, giving transparency and control to the creators, the people with ideas. This is made possible by our proprietary artificial intelligence, which can price, spec, write, and create products faster and more efficiently."
The way Builder works allows customers to assemble complex code and build custom digital products at twice the speed and less than a third of the cost of traditional software development. The tool leads users through the process in an intuitive platform that creates software in just five steps:
Step 1: Begin with an idea.
Step 2: Choose from recommended features or add your own. The AI will create a "build card" that guarantees a maximum price and estimates a delivery date.
Step 3: Builder's development process leverages AI to access a library of existing components and manage crowdsourced global teams for everything that is unique.
Step 4: Builder delivers a custom product quickly and inexpensively, as guaranteed.
Step 4: Builder delivers a custom product quickly and inexpensively, as guaranteed.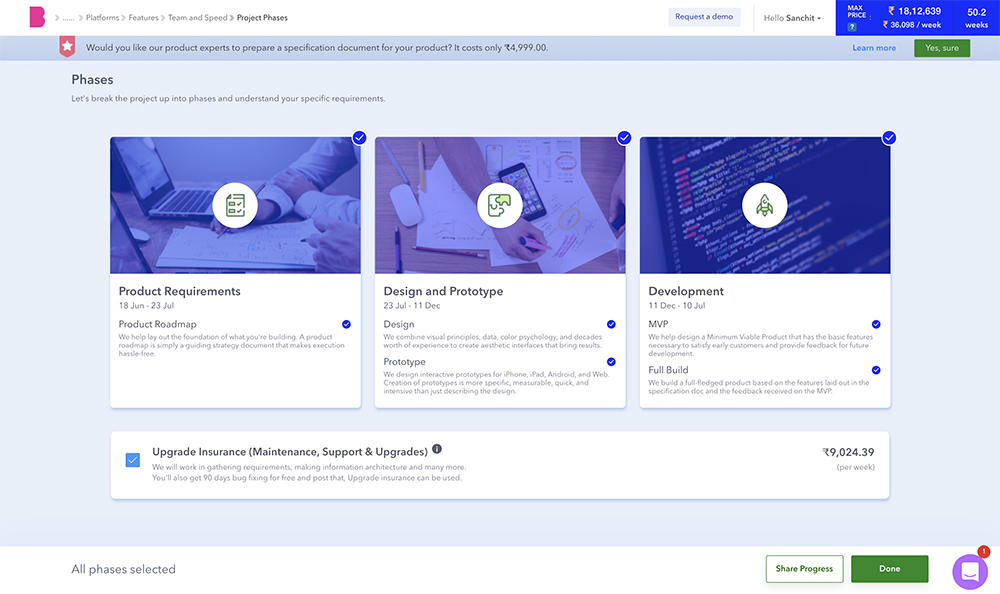 Coming from a company founded by serial entrepreneurs Sachin Dev Duggal and Saurabh Dhoot, who were notably the youngest attendees at the World Economic Forum for one of their previous companies, Builder could serve as a small revolution in reducing wasted time, money and resources. By making a previously complex demand suddenly a lot more accessible to a greater number of people, Builder opens up the possibility of new software being designed that may have otherwise been abandoned due to costs and resource demands.
"I understand the hard work and drive it takes to turn dreams into reality," said Virgin Unite president Jean Oelwang. "In 2004, Virgin Unite was created to push how social impact can be run like a scaled business, and working with Engineer.ai last year with our campaign against the death penalty and criminal justice helped supercharge some of our ideas using custom software.
"With Sachin and his team, we were able to build the critical tools necessary to streamline our efforts to have greater impact."
Images courtesy of Engineer.ai